Let's go the Zoo, Fakkahs!
Hey, check out my new hat!
And no, those aren't Yankee Mikes in the background, they're freakin Oliphants. Asiatic. Got it?
That's right, me and the missez went to
Ueno Zoo
this past Sunday.
Everyone knows that I love animals. I grew up watching animal shows and when we all went to the park to start youth soccer, I was more interested in playing with ants. The first channels I have to know whenever I go somewhere are Animal Planet and The Discovery Channel, and if Shark Week or Big Cat Diaries or anything having to do with birds is on, good luck getting me to do anything else. I'm fixated on the tube like a retarded kid to a bus window. In Afghanistan we got the National Geographic channel, and I had all the commercials memorized and cheerfully sang along to them. I dig it, folks, that's what I'm tryin' to say.
This presents a quandary. How can a guy who likes animals possibly go to the zoo and have a good time?
Good question. Zoos are a little bit depressing. I'm used to seeing animals (albeit on the TV) running around in their natural habitats, running down prey, pwning their rivals' babies, and crapping all over the place. Instead, there are these animals just sitting around doing nothing, peering from their enclosures while the equivalent of big macs with super-sized fries walk around and leer at them, just begging to be killed and eaten. Here's a good video of a lion that wants to murder everything within view, but can't. Poor fellah.
Still, I know that zookeepers love animals even more than me and devote their lives to making their lives comfortable. Being an animal (and in a lot of places, a human) really sucks, because everything around you is trying to take your genes out of the race and acquire the nutrients that are your muscle tissue. There is one animal, though, that I have a bit of a problem with. The animal that the Japanese (and Chinese I guess) love ever so much is the Giant Panda. I can't really abide by the panda, because they refuse to mate and propagate their species. What happens to animals like that? They fall by the evolutionary wayside. But for some reason pandas are special, because they're cute and cuddly. I disagree, as seen in this video, where a panda is intent on fucking some guy's shit up.
Oh, so cuddly! Animals that are the same size or bigger than humans are typically about 100 times stronger than us, and when they get mad, they have a tendency to try and rip our heads off. Take chimps. Chimps are completely and utterly insane and fucked up, and when they have an inkling, they will tear your shit to pieces. So anyway, back to pandas.
Pandas refuse to procreate, which is pretty lame in my book.
"Oh, I'm just a panda, I'm content on sitting on my ass and eating an inappropriate amount of bamboo and shitting over 200 times each each day while the WWF pimps me as their symbol. Save me lolz!!!"
They have cute names like Ling-Ling and Sing-Sing and Gao-Gao. More like Gay-Gay. Weak sauce.
So here's a little tribute I made to pandas all over the world.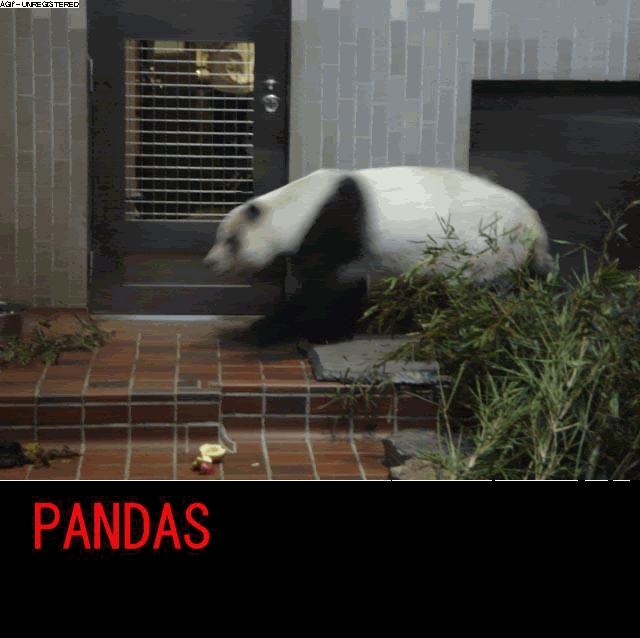 This took more time than I intended, but I didn't want to quit in the middle and waste what you clearly see is valuable time in my life. Furthermore, they're apparently doing better in the wild these days, not doubt due to the fact that it was punishable by death to kill them until recently.
Just down the road from the stupid pandas are some real bears. Bears that don't fuck around and pimpslap your skull clean off just because you looked at them sideways.
Here's an example of what a polarbear will go through to try and annihilate your shiz-nit. I think I've posted it before.
Click
here
for the full video, and to see how horribly annoying that girl is.
No one wants to help the poor polar bears though, because they eat seals, and seals are cute.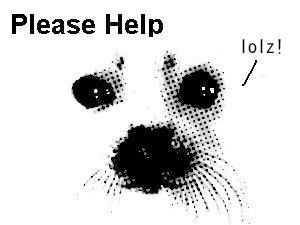 Don't get me wrong now – I'm not advocating seal clubbing.
That's just kinda fucked up.
But sometimes things that are cute have a buttload of nutritional value, especially for our manly aforementioned bears.
Another thing I love is when animals do something really fucked up, folks will sagely proclaim,
"Clearly they're demonstrating decidedly human behavior."
Like when chimpanzees go on hunting parties and ambush some poor chimp, chewing off its face, hands, feet, and genitalia, or when a group of bottlenose dolphins gang rapes a spinner dolphin. Uuh, I think they were up to that shit way before humans were, and I don't remember humans chewing off anyone's face. We use tools to do that shit, because we can. Animals aren't as smart as us, and if they had the brains to use a knife to massacre their rivals, you can bet your ass they would. Furthermore, animals can't use language like us. I always got a chuckle in Anthro classes when students would sooo want to believe that, and even after giving a definition of language in human terms and being shown evidence that animals can't use it like us, they didn't believe it. They were convinced that animals could either talk the same way we could and we just couldn't understand its subtleties, or they were talking on a different plane. Animals have complex communication methods, yes. But not like ours. They don't use symbolic representation to mean other things. They don't talk about things that will happen in the future in other locations. And when chimps were taught sign language, they only used it to get bananas. Scientists thought they could teach chimps or gorillas sign language and bring them into the field as interpreters ,like in Congo when that one ape is all like
AMY SCARED! AMY SHIT PANTS! AMY PLAY WITH FECES AND THROW AT SCIENTISTS! AMY NEED GORILLASEX!
Anyway it didn't work and it won't work, because apes aren't built like that. Some animals are pretty smart though. Like this fellah here. He's wearing a blanket. Oh my god, he must be as smart as us!!!
But for all our flaws and our "human tendencies" to run around butchering each other, he can't put 2 and 2 together and brain his buddy with a log because he's pissed off about something. He can't coordinate with his crew to pretend to be injured or sick and when the zookeepers come in, to tear the poor guy's throat out and wave it around triumphantly for the crowd. He's on display being woo'd at by a bunch of screaming Japanese school children, not the other way around.