Hawaii Trip!
I'm gonna cheese out here for a bit, so bear with me.
Anyway…
For the last decade or so I've been on the move pretty constantly – a rolling stone collecting no moss, etc etc etc.. From traveling in college to being pretty mobile as an active duty Marine, I was never really able to hold down a relationship for a number of reasons, most recently because I was, and still pretty much am, very much a mal-socialized animal prone to outbursts of rudeness, crude behavior, a lack of manners, and general social malfeasance.
Almost 6 months ago I was fortunate enough to find someone who is more than forgiving and tolerant of my constant relationship fuckups and stupid, outrageous behavior. She amazes me with her wit, intelligence, and strength, and makes me want to be a better person.
This past weekend we went to Hawaii together, and had a great time. I never really thought I'd head back to Hawaii (I was stationed there before). While Hawaii is nice and all, it sort of represented a rough patch in the road for me in some ways. Going back with her was a big step in our relationship, and as we approach the "6 month mark," I see it as an opening in a new chapter, and look forward to the future. I'd like to thank her for accepting me and my cornucopia of social/mental inadequacies, and for just being a really cool girl. I appreciate her tolerance for my sometimes erratic and explosive behavior, for never giving up, and for reminding me what it's like to feel the way she makes me feel. At risk of sounding cliché or like a Top 40 song, I'll leave it at that. I'm sure the guys will gimme a hard time about this one, but they'll secretly be happy for me. ;)
Anywho, I rented a Geo Tracker convertible so we could cruise the island Hawaiian style, and not worry about becoming a target for the carjackers running rampant on the island. I'm happy to report that nothing was lost or stolen. We stayed in the lovely (and currently being renovated) Gateway Hotel right there in the thick of things in Waikiki, in easy walking distance of the "hotspots", and more importantly, Dennys (Moons Over My Hammy mmmmmmm) and Jamba Juice. While I was ribbed for my penchant for making wrong turns and going the wrong direction, I was pretty proud of myself for remembering where things were, given my horrible sense of direction and ability to get lost.
So on to the pictures!!
We arrived at Diamondhead about 15 minutes too late, and the morbidly obese yet friendly local girl manning the guard shack didn't let us continue to the top. That didn't phase us though, as we snapped off a few pictures.
Here she is (erm, my girl, not the obese rent-a-cop), all smiles!
Here's me, pimping my new shirt that she picked out for me the day before at Ala Moana.
Here's the two of us together:
Here's a pic of Hanauma Bay, which is like swimming around in an aquarium. We rented snorkels and went to town, and even saw a sea turtle.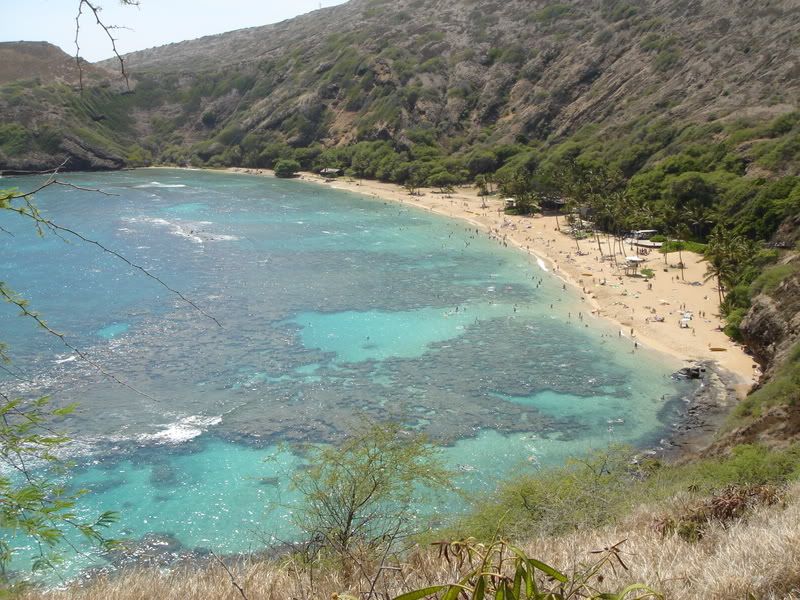 Here's a cool pic she took of herself near Waimanalo. She admitted that it took her a few tries to get it right, and she pulled it off pretty well:
Here we are on Waikiki Beach, around Sunset Time:
Here's the sunset, which was more like a pseudo-sunset, cuz of the clouds on the horizon. It was pretty nonetheless:
And here she is, with Mr Diamondhead in the background. The picture is a little blurry, but it's still nice:
So here's to the future, and I can't wait to take more groovy trips and exciting adventures together. Thanks for reading.