South Asian Men are Hi-Layree-us!!
I really get a kick out of these guys. Nothin makes us white devils scratch our heads and think, "huh?" more than Asian men.
I like saying "Asian men" when referring to Pakistanis and Afghans because it's such a silly concept. That's like calling an Egyptian immigrant and African American. Yeah, he's from the African continent, and he's American, but get real. The fact that people would get really upset with me for saying something like that gives me a serious case of the giggles. I had a really liberal rhetoric teacher in college. She said that we could only say "African American" if the person was from Africa and descended from slaves. One time I was in her office and she referred to an author as a "person of color". I said, "Oh, I didn't know she was black." She repressed a gasp and said, "She's Jewish." I said, "Jewish people are people of color?" and she puffed out her chest and proclaimed, "...the Holocaust saw to that." (meaning that they can't be considered white, for some reason). I understand why she thinks that, much in the way that I understand why fundamentalists act like assholes. Understanding isn't condoning. In any case, racial labels like that are interesting. Another thing I like to say to people is "Mexicans are really good Marines". People aren't sure how to respond to that. They want to get mad at me for generalizing, but at the same time I'm paying people with Mexican heritage a really high compliment. Oh, how to be offended? What to do?!?!?
I've said it before on here and about a million times over on
Brando's little spot on the innernet
, but a lot of the symbolism that these Asian men use also rates high on my giggle-scale. Namely the destruction of KFC. We all know that these fellas are really big into symbolism, and that sneezing on a copy of the Koran is more grave than gang-raping women as punishment for minor infractions. Here's a pic I stole from
HotAir.com
.
I like the strategically placed bucket. Gotta love them stringers.
While they probably see the defilement of Colonel Sanders as some sort of military victory over a famous Soldier, it's pretty high on the 'whatever' factor for me. But some things, well, some things are just taken too far: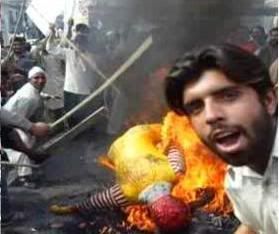 What the hell? How are you gonna burn Ronald McDonald? I took this picture, by the way. Yeah, I was there. I added a little speech bubble for what my buddy Ahmed was saying:
Can you believe that?!?!
And look at his buddy Mehmet there in the background. Know what he was saying?
This is an outrage!!! I'm going to take my shoe off and smack a copy of the Koran with it! I feel this will thoroughly display my outrage and somehow excuse the fact that I have no concept of what a job is!

*ahem*
I wonder when these dudes will realize that Americans don't give a shit if they destroy McDs and KFC. In fact, most American hipsters would high-5 them. Don't our Asian brothers know that McDs and other fast food chains are a symbol of American corporate imperialism? Oh wait, they do, which is why they don't like us. Not because they're ignorant, sociopathic, sexually repressed xenophobes rallied together by religious leaders with similar social disorders.
Hey fellas, check it out
: Wanna piss Americans off?
Succeed. Do well. Show us that you're not pieces of shit. Community leaders can stand up and not tolerate this bullshit because it reflects poorly on them, not on the USA or the American people.
That'd "show us" a lot more than burning a ceramic statue of a redheaded clown, you assholes.
Anyway, I've been pretty disappointed with Pakistan lately because they're proving me right. I've been running around for the last couple of years talking about what a poser country Pakistan is. It seemed like every 6 months or so they'd nab a terrorist and be like, "Look at what we are doing for the GWOT! Oh, nevermind that enormous chunk of land that we have no control of, nor a populace of people who hate you." And now they've pulled troops from
Waziristan
and released 2,500 prisoners. Hmm, wonder where those guys will head? Now they can stage attacks on Kabul and feel totally justified about it, because they don't see themselves as being responsible for their actions. The Cindy Sheehans of the world will make excuses for them and openly hope for their success, then blame the "neo-cons" the next time one of these whackjobs hits a world-trade-center-like homerun. Thinking about the possibilities in Pakistan and the aforementioned horsepucky seriously gives me the butterflies. I also think it's funny when G-Dubya talks about establishing a democracy in Pakistan. I can't think of a more horrible idea.
"OH, BUT PAUL, DON'T YOU BELIEVE IN DEMOCRACY? IT'S THEIR RIGHT TO CHOOSE LOLZ PWNT!"
Ugh. Americans are so blissfully ethnocentric. I'm just waiting for the dam to break and hope I'm somewhere safe when it does. *shudder*
Oh, on a more serious note, here's a picture of me feeding pizza to
Joe
's ass this weekend in Austin.