Holy Sumidagawa, batman.
First and foremost, I have a new favorite shirt. My cousin sent it to me for no reason, and I've worn it many times since I received it.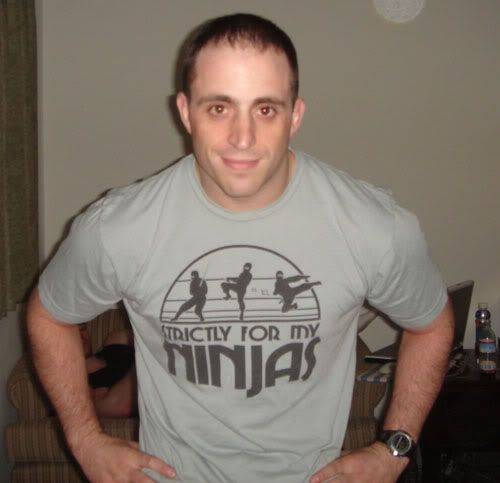 I was cruising around with it on, and it occurred to me that some people might find it offensive, cuz you know, people like findin' shit offensive. Fuck that though, it's a funny shirt. I had to take a picture of it on me so I could send it to my cousin, along with a "thanks".
So check it out: During the summer in Tokyo, there are fireworks like every weekend somewhere. I was asked by the miss'z if I wanted to go to watch fireworks, and I was a little apprehensive. I wasn't doing well with fireworks but I figured I had to get over my new little phobia. Besides, as long as something doesn't go boom or make a loud noise unexpectedly, I'm OK for the most part.
I'm not sure if I'd really been to a "fireworks event" before this. I mean, of course I'd
seen
fireworks before -- who hasn't? -- but maybe I hadn't been this up close and personal before.
At risk of sounding like a hay-seed...
Wow..
That's all I can really say. I was getting made fun of the entire time for staring at the sky with my mouth agape. I guess the only thing more spectacular than some of those fireworks would be, I dunno, an AC130 lighting up your block, or a MOAB leveling the next village. Either way, whoever makes fireworks really has their shit together. It's pretty amazing to me that they can make things go boom and zing and light up with such precision.
I wonder how long it took the ancient Chinese to realize that instead of shooting fireworks up in the air, they could just shoot them along the ground and blow people up with them.
"Hey Xiao Wong!"

"Yeah?"

"Got any of those bang-bang things left from the festival?"
"Yeah, an assload."

"Hey, how bout you tie em all together with some sharp bamboo in em, make a vest out of it, and have one of those Uygur laborers run into the enemy CP and blow it to smithereens."
"Hey, good idea."

Here is a pretty cool video I found on Youtube of the very same fireworks event I attended.
It's a little bit long, but they caught some of the good stuff. And you can see how crowded it was too. I didn't know there were a million or so people there, but it doesn't surprise me one bit. In Japan, whenever something's going on, it's a madhouse.
Here's a much shorter video that I took with my camera. Notice that at the end, you can hear someone say, very distinctively, "Oh my shit." Yeah, I taught her that.
The guy with the retarded laugh is me.
Anyway, as you can see in the longer video, a lot of the Japanese people get dressed up in their
yukata
and cruise around. Here's a picture of us, where I am definitely not wearing a Yukata: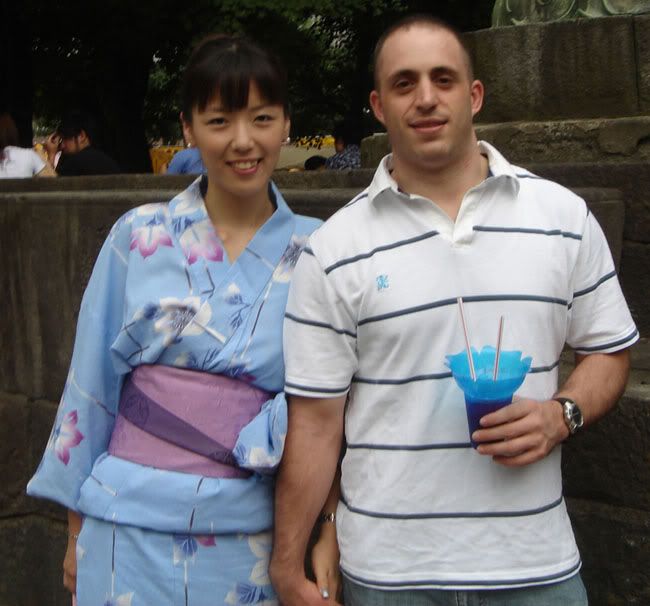 She asked me,
"Why don't you wear a yukata? It'll be fun."
and I was all,
"Cuz that ain't how I roll."

Which is true.
"Why not?"
asked she.
"Because I don't want to be that guy."
"What guy?"

"That white guy walking around dressed like a Japanese person. Round-eye look ridiculous in yukata, so I will never ever wear one."

"Aah, I see."

Me wearing a yukata would look about as natural as a Japanese person dressed up in Colonial British garb. Of course, there were round-eye there with yukatas on, and yes, they were "that guy". I guess I can't slam them for trying it out, but like I said, t'aint how I roll, and t'will never be how I roll. I'm not a real "dress up and make a spectacle of myself" type person. I like to keep it a little more low-key. Be the gray-man, gents. The gray-man. Oh, and I've given up on replacing my red hat. It just isn't going to happen, so I cut my hair real short, which looks better anyway, and I gave up on trying to replace that which cannot be replaced. Durp.
Anyway, was planning a camping trip this weekend but the van fell thru. =( If the weather is nice, mayhap I'll go to the beach. I've been feeling like pure ass lately -- hope I get better. *sigh*