...And when I get that feelin'...
I got...Technico-philia... Technico..pheeelia baaaby..
Mmmmmhmmmm, you guessed right. I got a new frackin' phone.
I like saying "frackin'", cuz that's what they say on Battlestar Galactica. I don't say it in real life though, cuz that'd be dumb.
I bet they have some pretty badass frackin' cellies aboard the Galactica too.
Anyway, the reason I got a new phone was 'cuz I didn't get good enough signal where I live. I got tired of having to stand by the window to talk and to hold the phone up above my head to send a bloody email message. You see, in Japan, the cellphone is a social lifeline. More so than in the USA, I think, though I haven't been "social" in the USA for a long time so I could be off. In either case, when I was a student here in 96/97, beepers were the big thing (texting from payphones to beepers), and when I got to Okinawa I was introduced to the wonderful world of cell texting. It's much faster than in the USA, and the phones are super smart -- smarter than is possible with English because of the way the languages are (in my opinion) so you can send shit out really fast. When I was bored in Okinawa during the work day (which as pretty much all the time) I would send out 4 or 5 emails at the same time, and have a bunch of conversations at the same time to keep myself occupied.
Multi-tasking.
I didn't switch my service off when I went back to Hawaii (cuz I knew I was coming back to Japan) so I kept my AU (that's a company name) phone, then the fuckers turned it off without telling me because they kept getting my bill returned (because it was being sent to Okinawa, where I wasn't.) So that was the end of my AU stint.
I got here and signed up with Vodafone because they were the ones that could hook me up the fastest. I wasn't really into the idea because so few people use it, but whatever, I needed my social lifeline back. Here's the phone I got:
Read a little about it
here
.
I didn't really like the way it looked, i,e. like a freaking iPod, and everyone knows I refuse to buy an iPod.
Why?
Because someone has to............not...buy...them....I mean......
Anyway, I'll admit she served me well for quite a while, until I saw someone with this one, and I decided I had to have it: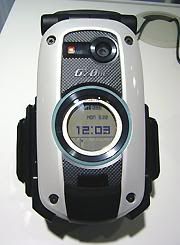 I mean, for chrissakes, just look at it! It looks like some kinda spaceship! It's water proof and a might robust, just in case I'm caught up in a tsunami and find myself atop a mighty palm tree. It has a 2.1 megapixel camera so I can take pictures of the aforementioned mighty palm tree for proof when all my friends tell me I'm full of shit. After I de-tree, it has a built-in compass so I can find my way back!! You can read more about it
here
.
It's a little bit bigger than my other phone, but fuck vodafone. Not many people have vodafone, so you can't send the little cartoons and shit in the mail to each other, which makes the whole mailing experience that much more delightful when you're on a crowded train taking pictures up womens' skirts. Or if you're just standing there. Whichever.
If you're into that kinda stuff I mean.
That's about it really. That's all I have to write about. Or at least all I care to share with you at the moment. I have a pretty good quote from this weekend, after I almost crash landed all over a McDonalds foyer:
Unko shisugi.

That means, "
You crap too much
."
Guilty as charged, my dear, guilty as charged.
...and here's a clip for y'all bitch ass ninjas.