Coon skin and Alligator hide?!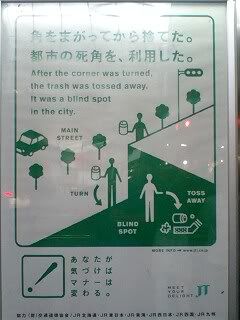 Oh dear.. This has to be the saddest smoker's etiquette sign I've ever seen. I'm not sure whether it's an anti-smoking ad or a be-kind-to-garbage ad.
Here's a haiku:
The Cigarette butt...
Discarded...Left...Neglected....
....At the blind corner.....

Makes me wanna go out and pick up cigarette butts. Not because it's littering, which is common here, but because I feel bad for the poor fellas. Speaking of littering, I can't really dog the Japanese too much for littering, because there are no public garbage cans hardly anywhere. There are recycling bins for cans and bottles, but they're usually quite full, so if you have a plastic bag from a convenience store or something, it's not uncommon to carry it around with you for a few hours. I've found that a good strategy is to put it in a corner somewhere I know that janitors frequent, like a bathroom. They'll take care of my little bundle of joy.
So this weekend me and shortie cruised around
Ginza
for a while. I even bought some clothes. Can you believe it? Anyway, when we exited the subway there was a
Taiko
performance going on. I've always liked the sound of the drums. It's like Stomp, only instead of using products mass produced by peasants in a factory to put random noises into a cohesive pattern to please over-educated snobs, in taiko, a group of over-educated snobs bangs large, wooden barrels with animal carcass stretched over it to please peasants who work in factories.
Something like that.
Here's a little video of some Taiko going on.
You can't really see it in this video, but they start off really slow and the action escalates until they're jumping around and going completely apeshit, and it sounds awesome.
While many (I guess myself included) would argue that Okinawan music is
not
"Japanese" music per se, it's also completely awesome and gives me goose bumps when I hear it. Here's a little example of a clip containing a lot of distinctive Okinawan musical traits:
I'm not sure if it's really appealing to most westerners, but I love it and I can listen to it forever. A lot of Okinawan music has a really melancholy feel to it, and it really takes me back to the year I spent there and reminds me of how much I miss it. When I went to Okinawa, I hadn't been to Japan for a while, so the differences between it and mainland probably weren't as marked as they would be if I went there now. I'm itchin' to go back and check it out, for shizzle.
One thing I like to do (or rather I do without realizing it) is I try to look at things that are going on around me as if I were a member of a
primitive tribal band
. For instance, when a train comes blasting by or I'm at the top of a really tall building, I try and picture what it would be like for someone who knows nothing other than the forest or the jungle. Having not spent my formative years in the
Amazon basin
, this is obviously impossible, but it's still fun to think about and I never take for granted the things that we have in hypermodern society.
I've been pretty busy with some shit I've been doing, so I don't have much to say. Summer's almost over, and it's been a memorable one to say the least. It was ushered in with Brando's visit, and the week after next I'll be going to Texas for a little reunion with all the guys from my platoon. Should be interesting, to say the least.
No Iowans were harmed in the posting of this blog.