That Hezbollah chick was SMOKIN...
Cripes in a sidecar. That's all I can say about
this
.
I don't really have a problem with adults running around and acting like assholes, because it's what we do best as adults. I do have a problem when they involve their kids. What kind of sick fuck would have their child come to a rally and sing:
"Hey hey.
Ho ho.
We support the PLO."


and
"Red

white

green

and

white


We support Hezbollah's fight!"

The little kids can barely even get "Hezbollah" out without stammering. And what's going on with "Red white green and white"? It's kind've hard to have a convincing message
when what you're saying sounds completely retarded.

I wonder how the pre-protest briefing went at home.
"Ok Sarah, do you understand what you're supposed to chant?"

"WHAT'S A HIZ BO LAW??!?!"
"Sounds like someone doesn't want any ice cream....."
Yeah, liberalism is way better. It's much better to have your kids out protesting and running pickets than the stupid traditional way, which is to let your kids be children. Yeah, and I'm the brainwashed one. Yut yut. Also, how can you support someone's fight at a peace protest? Can you be selectively pacifistic? Furthermore, if you find yourself at a protest, don't you think you should get your ideas together in case someone who doesn't agree with you asks you about it and puts you on camera? "Study, you are so young" is a wonderful answer. You look like a condescending, ignorant asshole. And Hugo Chavez as an Arab Leader?
Are you out of your fucking mind??!
I guess it's easy to spew bullshit when there's no one there to hold you accountable for whatever nonsense you're saying.
...and I'm
sure
someone has said something to the effect of:
YEAH CUZ GOING TO CHURCH AND BEING BRAINWASHED IS WAY BETTER RIGHT LOLZ
Um... OK, check it out.
For all the lip service I pay about being a "raging card carrying atheist," I will never say that Churches serve no function in a community. And given these two options:
a) Supporting the PLO's and/or Hezbollah's fight (i,e. launching rockets into Haifa)
b) Supporting a Church and its community groups/social functions
....imma pick number b, bitches, even though I don't believe in what they believe. .
...But this is Adventurepan goddammit, and we need to bring things around to the subject at hand. I'm tired of these bullshit posts, and you should be too. So here goes.
People wonder why I like Japan. I like Japan, but even when I wasn't working in Japan, I was working somewhere else outside the USA. I don't want to live in the USA. I love the USA, I just don't want to live there. I look at these protests and think about the odds of having to actually encounter some of these people in real life, and it turns my stomach. A lot of people, me included, bash the Japanese for being
heiwa boke
, which kinda translates as something like "Peace dumb." They've experienced nothing but an easy peace with most of their defense handled by someone else since the war, and they don't really learn about WWII in history class. Ask a Japanese person about Hezbollah and see and see what they say. Probably nothing. Ask an American about Hezbollah, and you'll probably get a stream of bullshit on one side or the other, each respectively uninformed, and each delivered with a certain ignorant fervor that we're so well known for. I prefer the former. I don't sit there and spew bullshit one way or the other to anyone who will listen, and Japanese people refrain in much the same manner. Everyone's a winner.
And why else do I like Japan?
Well, the signs, of course.
That's right!!!! Remember this sign??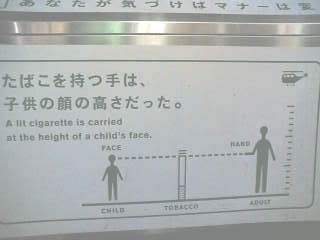 I was unaware that it was just one of many signs like it, each with an equally ridiculous picture. There seems to be a whole series of these signs, and I will attempt to find as many as I can. So I've come up with a little game. I'm going to show you the diagram on each sign, then I'm going to show you the full sign. Or something like that. I hope you get as much a kick out of them as I did.
I'd like you all to imagine, if you would, if you saw these signs with no translations on them at all. Just the Japanese, which would most likely be meaningless to you, so I'll show you just the little pictures they have underneath the signs. Do you think you would be able to figure it out? For instance, consider the original one I posted, if you had just seen this: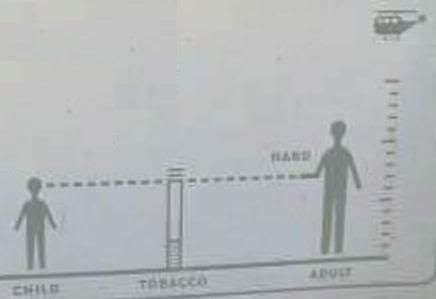 What the hell does that mean?
OK, moving along.
Item Number 1:
Apparently "tossing away" a cigarette is the same as "tossing away" Japan. It's right there. One equals the other. Of all the social problems Japan has, clearly the one that is best equated with Japan going down the toilet is people throwing away cigarette butts. Not human trafficking. Not a plummeting birth rate. Not lack of public trashcans for that matter. It's cigarette butts.
Here's the original sign: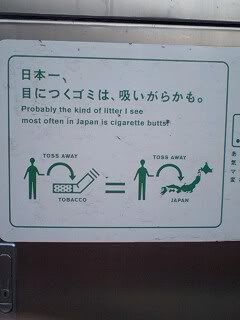 Item Number 2:


This isn't a bad analogy, if you make it work. Umbrellas keep away rain much like portable ashtrays keep away cigarette butts. To understand this one properly, you must understand the Japanese attitude towards rain. Japanese people treat the slightest droplets as if there were a full on chemical-biological attack going on. Back me up here, Brando -- he witnessed a man sprinting down the street covering his forehead with a 3-inch by 3-inch hanky. People honestly freak out. Here's the real sign:
It's a little small, so I'll write it out:
Portable ashtrays, they're so handy. I always think that when I'm searching for a place to get rid of my cigarette butt.
Hmm, I think that too. I think of umbrellas too, when I'm searching for a place to get rid of my rain shower.
Item Number 3:
I guess one of the many hardships of being a human is skeeter bites, UV rays, and aggressive cigarettes, not necessarily in that order.
Here's the original:
One thing that I want to emphasize here is that these signs do not qualify as "
Engrish
". While they seem a little bit unnatural, they are grammatically sound, and they're
the best translations
of the Japanese written above it. I can almost guarantee you that a native speaker checked these, and were instructed to keep them as true to the original as possible. They seem unnatural not because a Japanese person with a 3rd grade English ability translated, but because that's how Japanese people talk. Say it aloud, like a samurai might.
In Summertime...The arms that pass by my cigarette....Are bare....
Almost sounds like a haiku, don'it? In fact, let's Haikuize it:
During Summertime
Arms passing by cigarettes
Are frightfully bare.

or maybe:
I hate the sun and
I hate mosquitoes too but
Ciggies? Just as bad...

I like my haikus better. I wonder what they will do during wintertime, when people are wearing jackets? And the skeeters are dormant?
While I make fun of these signs, I mainly get a kick out of them because they're kind've cute. They might be on to something though, given the failure of the "Smoking Kills" anti-smoking campaign. They are, however, a good example of the type of "marketing" that would work in Japan but wouldn't work in the USA. Clearly these signs are appealing to the well being of others, the country, and people's disdain for precipitation. These would all be lost on Americans because, well, we don't really give a shit about someone we don't know, and fuck the environment anyway. The Japanese signs aren't really even asking people stop smoking per se, they're telling them to smoke in designated areas, which is a little more realistic than the USA, which feels that it's important to pass legislation limiting people's access to smoking/places to smoke.
So rock on Japan, I love you and your cute little signs kindly requesting people not to torch children in the face with cigarettes, and equating tossing butts to flushing Japan down the toilet. I'm always a sucker for the dramatic, especially dramatic public campaigns. *sniff*