I've been converted!!!!!!!!!!!!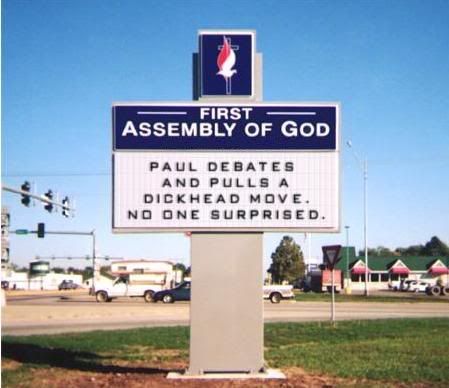 So there's this guy at work. Good enough guy I guess, but looooooooves to argue. Doesn't really matter what it is, he's gonna try and convince you of his viewpoint. Even if he doesn't care about it. He's just that type of person. He also doesn't realize that this sort of behavior can be seen as abrasive and invasive, and that 90% of the time people will just placate you if you have such a personality trait.
"Sure dude, whatever you say."
So he's in my office yesterday, and we're shooting the bull. We were talking about religion and relationships and stuff, and I said something to the effect of, "I don't think I could be in a relationship with a woman with strong religious convictions."
I know he's a Christian, but I also know he's a dirty bastard and a misogynist, which is apparently A-OK in Christianity, because half my team in Okinawa were dirty misogynistic Christians. I also know that he's not the type to force his religion on people, and can discuss it without taking it personally or having a conniption, which is the only reason I brought it up.
Anyway, he wants to know why, so I tell him that it would become an issue -- she'd want to talk about it, and she wouldn't be able to argue with me, because it's impossible to argue religion with me due to my, erm, qualifications, on the debate. NOT because I have some insight into the metaphysical, but because of rules I insist on putting on the debate.
(I know Eric's gonna love this one, and probably be obtuse in the comments.)
"What qualifications? I'm sure I could argue it,"
said he.
"I don't argue religion,"
said I.
"C'mon, try me,"
quoth he.
SIDENOTE:

Here's an important Paulosophy:
I don't get in fights unless I'm 100% sure I can win.

Debating is no different, unless I'm playing devil's advocate....which means I'm just being a pain. So 90% of the time.
If I'm not playing devil's advocate, it's probably something I believe [strongly] to be true, and have thought about it a lot, which is the only way I will debate something that I care about. It should be noted that I am open to
discuss
most anything, but I don't really like debating because I usually simply don't give a shit, and I don't like sitting there while someone tries to convince me of something using evidence that I am not sure is true/again, that I don't care about. Discussions often turn into debates, which is usually when I flip the off switch.
I digress.
"OK,"
sayeth I.
"Here are the rules:


You can't use the Bible as evidence

You can't use faith as evidence"

"Why not?"
plead he with a perplexed gaze.
"Check it out,"
I sagely began,
"You can't use the bible in support of your argument as a 'truth' because the 'truth' of it is based on (a Christian) God existing, which we have not established. Nyam Sayin, G?"
(I think this is an example of
begging the question
. Help me out here, nedricologists...)
"..."
, he shrieked in muted rage.
"And faith,"
I continued,
"Well, you're eventually going to just look at me and say, in some form or another, 'Well, I just know personally beyond a shadow of a doubt that God exists,' which is inarguable, and effectively ends any debate."

"No I won't,"
he assured me, and agreed to begin our little verbal sparring session.
Long story short, it ended up with him telling me that he knew, personally, beyond a shadow of a doubt, that he was right, and there was a God. Ay, que sopreso.
It should also be mentioned that a common answer is also, 'God works in mysterious ways' or 'We cannot begin to fathom the reasons/way of thinking of a higher power'. I think I'm going to start adding that to my rules. You can't say that either from now on.
The only reason I really agree to these debates is because I'm interested to see what the other person will say, and what kind of debating tactics (or lack there of) they will use. With my two handy dandy qualifiers, it's pretty much impossible for them to prove anything, keeping in mind that the burden of proof lies on them.
They
have to prove to
me
that there is a God. And when I say
prove
, I mean using the scientific method with evidence. Not lack of evidence otherwise. Not speculation. Because to them, it's not a theory, it's a fact, and by gum they're gonna convince me!!
What usually ends up happening is they start debating
the possibility of there existing a higher power
, not necessarily a God, citing Stephen Hawking and his crew's ideas and whatnot. This is a different debate, so it's easily sidestepped. It's a stupid debate to begin with, and I don't know why I bother.
I'm often amazed at the confidence people have in convincing someone of something just because they believe in it really hard, especially when someone like me comes along and starts putting restrictions on the debate. Do they not wonder why I'm putting these rules on it? Do they not see that I'm stacking the deck on purpose?
I see it like this: Let's say I'm at a park playing chess. I'm OK, but not that great, and I don't really care if I win or lose. A guy comes up to me and says,
"Hey wanna play?"
I know he's pretty good at chess, not significantly better than me, and that if he loses his rating will go down.
I respond by saying,
"Sure dude, but I have a couple of rules that you have to follow."
"No problem,"
he'd say,
"I know I fucking rock, and I can defeat you."
"OK, for this game you're not allowed to use your queen, knights, or bishops, or rooks.. Is that OK? Do you agree to that?"

"Yes. I know I can defeat you."
It just doesn't make sense to me. Doesn't it seem odd that I already have these rules planned out? Is his opinion of me that low, and does he think he's that much smarter than me, that even when I say
"Can we not do this? I've had this debate a million times",
he
still
wants to carry on with it?
Whatever. I guess it's harmless fun anyway, and the stakes are really low. Fortunately I don't care enough about the subject matter to worry about it, but it makes me wonder how many people live their lives like this. Sometimes I envy people with the confidence to cruise around and think that just because they believe something, they're right, they know it better than you, and they're smarter than you. Even after being made a fool of or being proven wrong (not that this happened in the above example), they can carry on and just be like, "Psh... It doesn't matter. He might think that he proved me wrong, but fuck him, I know I'm right," and carry on like you're not only the cat's meow, but that a higher power is looking out for you and justifying your behavior. I guess I could never be a politician.
Anyway, that's just me rambling. Me debating anyone is never really going to solve anything or convince anyone of anything because I put stupid rules on them to ensure my victory. I am swayed by discussion and exchanges of ideas, not by debates, because I don't like being verbally alpha-male'd. Debates typically put people on the defensive, because from the get-go someone is saying, "You're wrong, I'm right, here's why." It's not a real healthy forum for solving problems or swapping ideas. Let the idea swapping begin!@#@!$@