Fear the Manslap...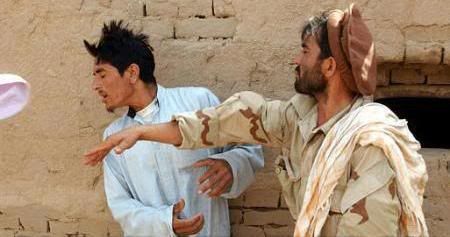 Looking at this picture really brought back a lot of memories of Afghanistan, mainly because, like, these people are obviously from there.
One thing I always got a kick out of in Afghanistan was the fact that anytime you drove past a huge group of kids, like when school was getting out or something, there were at least 2 kids that were no-shit going at it. Like for real. Like "I'm trying to injure you." The kids there beat the dogshit out of each other all the time. There are a lot of fights in the streets too, between adults. I liked it because for the most part, Afghans were pretty chill folks. Chill folks that like beating the crap out of each other and killing Russians.
One common form of physical expression down there is the Manslap, as shown in the above picture. This picture is a fine demonstration of a calmy administered manslap, complete with de-hatting, which makes anything more funny. Notice, if you will, the slapper's calm demeanor. He believes he is clearly in the right, because the slapee has committed some sort of greivous transgression. He's issued his slap with all the confidence he needs to assure that his message has gone through, loud and clear. His manslap must have also come from no where. This is a post-manslap picture, and the slapee's hands are only raised slightly. What speed! We are dealing with a professional.
Most of my friends know that I'm an advocate of the manslap, but that one must wield it very responsibly, like any sort of physical force. Manslaps are very, very powerful. Again, use them responsibly. Do you have a manslap story? I'd like to hear it. And yeah Joe, I already know yours. Or rather a few of them. There are so many.
So what happened this weekend? Well, the lady friend went back to her home town, so I hung out around Tokyo, trained on Friday evening and Saturday morning, then had a bit of a boozefest on Saturday night. I think I was pretty dehydrated and I was a cheap date, and the night turned into the typical "Paul says absurd things to people all night" show. I played my favorite "Pretend to mishear what people say and repeat back something outrageous or vulgar" game. I also played my other favorite, namely the "Tell the group of girls that your friends are talking to that you're really all homosexuals, and describe what you do to each other without letting your friends in on the joke" game. Oh, and another gem, which is the old "dry heave out of a cab window" game.
The cabby was getting a little nervous up there in the front seat, cuz I was mouth-sweating and sticking my head out the window. I looked at him and said, with the confidence similar to that of a seasoned doctor about to perform a simple procedure, "Don't worry -- I do this all the time. It's just routine," and proceeded to have myself a little bit of an ab workout. I hit the hay at about 5am, feeling none too good, and woke up at around 11am, feeling surprisingly spry and not-too-bad. A heaping bowl of noodles and a cup of joe later, I was ready to roll. And by "ready to roll" I mean "ready to lay around and watch TV all day in my underwear and marvel at my brontosaurus-like constitution."
Oh yeah, and I took a picture of this too, for Mr Tony's T-shirt collection:
Smoke is billowing from a stand ashtray. If it were my home, I wouldn't be so calm.
Yeah, it's a retarded analogy, I know. Cuz we don't live in stand ashtrays. At least most of us don't.
Anyway...