...and then God farted, and it was good...
So this weekend I went to
Hakone.
First thing's first -- it's pronounced like Ha-Koe-Nay, not Hah-Cone. It's not an icecream holder. Or something Brando calls a halloween costume. It's a lovely place near Mt Fuji, and, as per SOP, the ever fickle Mt Fuji was hidiing behind clouds. Aaah, Mizz Fuji, why must you toy with me so? I was able to get this little picture while she was peeking out to see if I was looking.
Gotcha suckah!!!
Me and the she-partner hopped in my ride and drove down there first thing in the morning on Saturday. The weather was clear at first but, as always, it got progressively shittier as the day went on. It's also getting pretty cold here, but we managed. We started off by driving to this gondola-deal, or as they call it, a "rope way", which took us to the top of a fancy hill.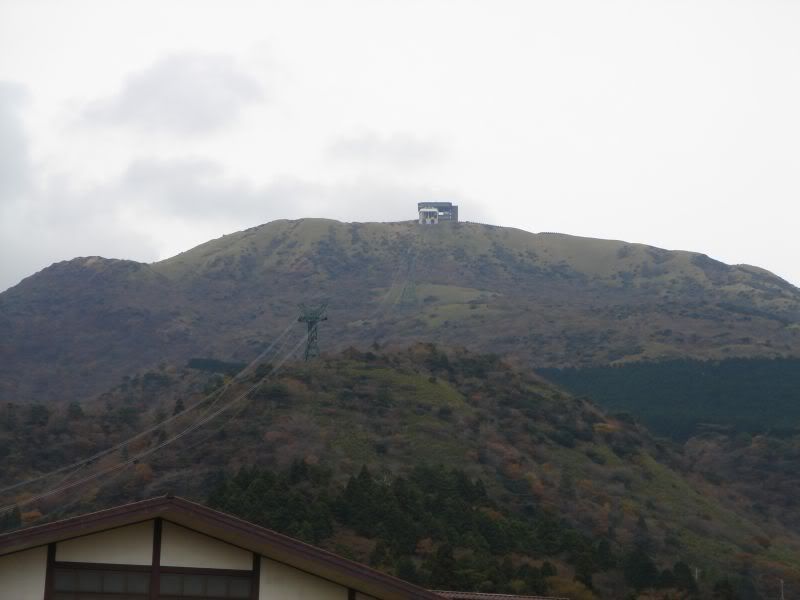 It was about a 7 minute ride to the top, which was way colder than it was at the bottom. Still, it yielded a bounty of snazzy pics, which you will be able to enjoy now.
Here's the lake.
As you can see, the Japanese have out done themselves maintaining the majesty of the area, by placing a golf course in between the top of the mountain and the lake.
Here it is, a tad closer.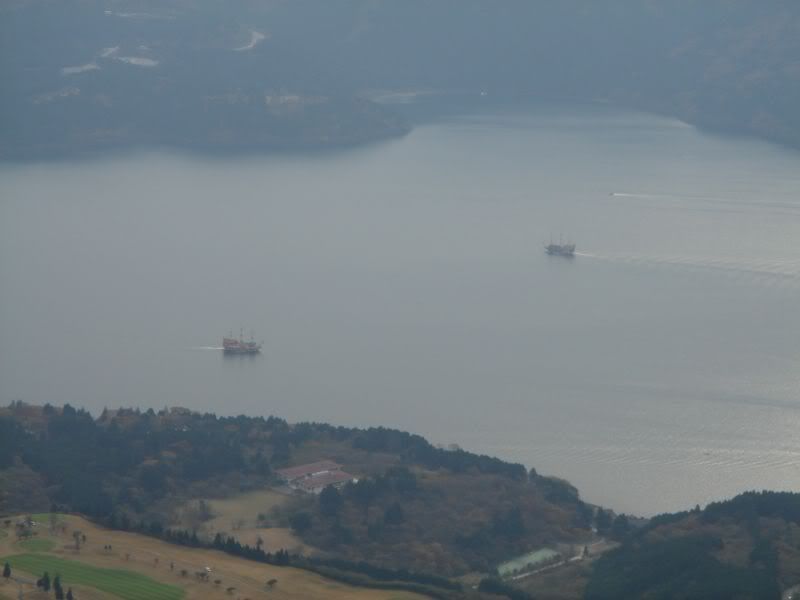 What are those? Boats? What sort of boats? Probably some sort of traditional boat. Well, kinda traditional I guess...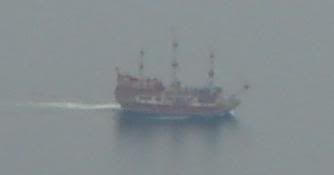 Yaar, matey, that be Mt Fuji over thaarrrrrr...
They actually have a huge union-jack paint scheme on the other side. I was pretty amazed that it was able to sail around with its sails furled. I wonder what sort of demon magic they used to keep it moving? Probably something like in that Juan Depp movie.
After looking around the rope-way area for a bit, we went over to check out some volcanic plumes. I love geology, and initially chose it as my major in college until I realized that it involved math, which made it a big fat no-go. But I'm still pretty interested in it, and always have been, as shown by the silver medal I won at the Science Olympiad in Geology in high school.
Yes, I was even cooler back then.
Anyway, one thing that I haven't done since I've been driving in Japan, including my time spent in Okinawa, is ram another car. I'd always wanted to see what would happen if I did -- you know, to better understand the traffic laws and such -- so on the way to the volcanic plumes I took the opportunity to rear-end the car in front of me.
Here's what happens when a 93 Carina (my car) plows into a mini-SUV with 4 unsuspecting Japanese people in it:
His car:
And my car:
I'm sure you probably asking yourself, "Hey what gives? His plate has a Japanese letter next to the blacked out number, and yours has a Y next to yours." That's why we call em Yankee plates, folks. I'm glad the cops know that a roundeye is driving whenever I cruise by.
Anyway, it was no small thing. I was hoping to give him all my cash, high-5 and pat asses, and drive on, but no, you have to involve the police. The cop came out to confirm that I did indeed rear end him, and insurance companies were contacted, and an hour-and-a-half dance ensued. Luckily we made it to the plumes before it got dark, which was at about 4:45pm up there. The cop was cooler than I expected -- in the past, I've found them to be prickish -- and we all had a chuckle when I announced that "our cars did battle, and mine clearly lost." har har har, yuck it up, I'm a fucking idiot.
Anyway, on to the plumes. Any one who's ever been by one of these geologic wonders knows that it smells like absolute shit. Or rather, like a fart. Like a really bad fart from someone who ate an inappropriate amount of hard boiled eggs. In a word (or 3), like my office. You start off at the bottom, and walk up to where the big vents are, by this little hut on the mountain:
Next to the hut, the fumes are almost overwhelming. When a breeze hits it right and it hits you in the face, it's like god is holding you down and farting in your mouth. A big, wet, palpable fart. Another tradition they have up there is that they boil eggs in the volcanic water which turns the shells black, so everyone is standing around eating hard boiled eggs and throwing the egg detritus on the ground and on these tables. I wonder who had that bright idea?
"Hey, Satoshi, it doesn't smell bad enough up here. Let's boil eggs so everyone can eat em and throw pieces of egg everywhere, which will rot. Maybe we can cover up the smell of rotten eggs that volcanic sulfer brings with, well, real rotten eggs."
Anyway, I took a little video on my camera of the plumes for you all to enjoy.
Here's a picture of me next to the cool sign.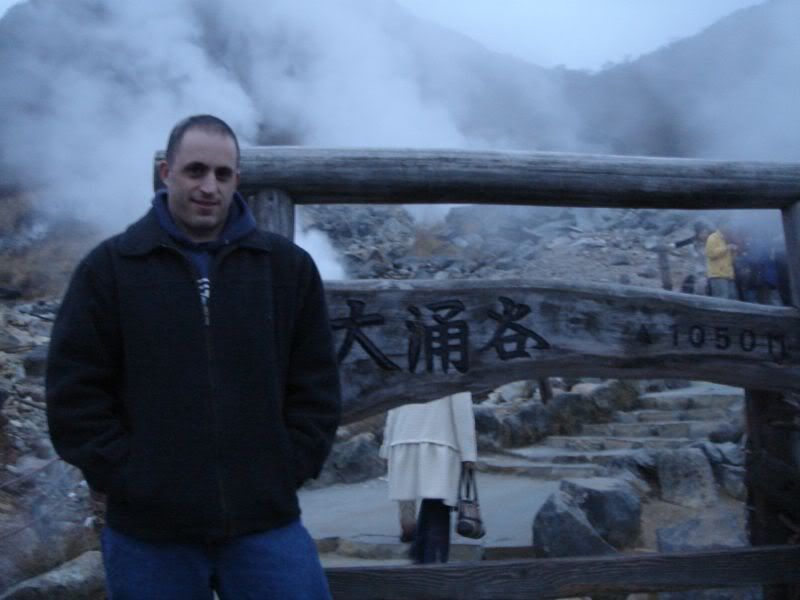 And let's not forget my faithful navigator, who refused to let me drive after bulldozing some unsuspecting folks on a narrow road:
So that was my weekend adventure. I hope I don't lose my liscence, because you might remembed that the last time I was in Kyoto I thought it would give everyone a good laugh if I
hit a pole with a rental van
. These are the only two times I've struck something with a vehicle. Except in Afghanistan, but that's ok, because everyone hits stuff there. It doesn't count. Plus I wrote a
fancy blog about it back then,
so I've made sure to let everyone know when I smack something with a vehicle.
I hope you enjoy my stupid antics as much as I enjoy doing them.