Mind your Ps and Qs
As with some of my other posts, this will be two-fold.
The first reason I request that you mind your Ps and Qs, is because
RUSSIANS DON'T FUCK AROUND.
They're not burdened by silly things like "human rights" and whatnot. Whenever there's a hostage situation in Russia, I think to myself, "This isn't going to turn out well." It doesn't matter if it involves children or concert goers or whatever, we all know that there's gonna be some serious carnage.
The reason I bring this up is because of a photograph I stumbled upon in a book. The book was written in Chinese, which I can't read, so what the text surrounding the photograph was talking about was left completely up to my imagination. I took a picture of the photograph with my cell phone camera, and now I will share it with you.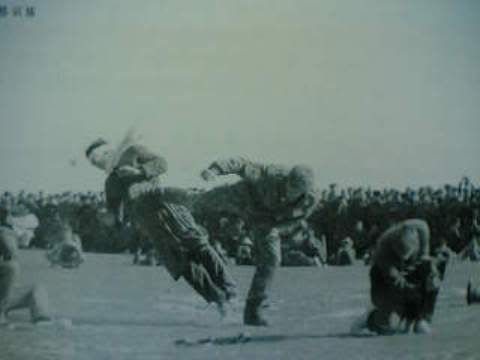 This picture is absolutely amazing to me. Let's notice some obvious things about it.
He's airborne

The man is being kicked in the side so hard, that he is actually off of his feet. He's in the air. Whoever took this picture must have been a helluva photographer, because they got it at the instant of impact. The kickee hasn't even had a chance to double over in pain. I'm also going to go out on a limb and say the dude got a running start for the kick.


He's blindfolded

Maybe as part of Russian hand-to-hand combat training, you have to put on a blindfold and let some guy run up to you and kick you.


The two guys kneeling

There are two guys on either side who appear to be "taking a knee". I'll assume they're taking a knee because some guy just ran up to them and side-kicked them in the ribs.

Maybe this was some sort of demonstration, because there's a crowd hanging out in the background.

"And now, for our next feat of mindless cruelty, Dmitri is going to knock a blindfolded Chechen off of his feet."

So back to minding your Ps and Qs.. That's a saying that I'm very fond of. Mind your pints and quarts. Check yourself before you wreck yourself, etc..

Anyway, we all know what it's like to wish we had said something after the fact. "Wow, I wish I could have come up with that back then!"

So last night, Drewski and I were watching one of our friends talk to easily the hottest Jamaican woman that I've ever seen. Drew was making some inappropriate comment and I was giggling, and she totally busted us out. She walked over with our friend and demanded to know what we were talking about. We played dumb, but she refused to leave. Finally, Drewski had enough and said, "You've been a real pain in the ass tonight," because she's a bit of a princess. And rude. She shot back with some blahblahblah comment and looked at me to see what I had to say, to which I responded in a very pleasant manner:

You oughtta mind your Ps and Qs, because you won't be able to pull this shit off in 10 years.

To my surprise, she laughed. It would have easily gone the other way, resulting in me getting smacked. I think it's really important to say stuff like that to uppity gorgeous women. Some people might say, "It's no wonder you don't score any hot chicks" or "That's not a good way to win hot chicks over" or whatever.

Let's be honest. There's a reason I don't have models all up on my shit. Hot chicks like that don't dig on guys like me. They dig on guys like my friend, who is rich. I can't give them expensive bags and stuff, I can only give them rude comments, filthy language, and questionable behavior. That's what I have to offer. I know for a fact that there are hot chicks out there who find rude comments, filthy language, and questionable behavior charming and entertaining, so I'll stick to them.

In the mean time, let's all mind our Ps and Qs, and do our part in taking some uppity bitches down a notch or two.