Life is good...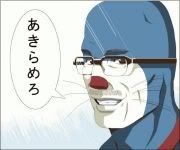 GIVE UP!

Never!!

I don't have a lot to write about. Not because I don't have a lot to say or some really funny stories from the weekend, but mainly because some of my readership have an image of me being something other than a complete shithead. For details, get with me offline. Life is good though.
I'd like to keep my reputation as pristine as possible.
Moving along.
Item #1:
This is my favorite sign in Japan.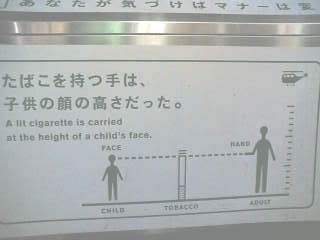 I have some questions:
What is the helicopter doing there?
Is this sign a warning or a command?
Why is there a 4ft tall ciggie between the kid and the dude?
Aren't midgets people too?
Item #2:
The Producers
was the worst movie ever.

My boss said it was a hysterical movie and that
Will Ferrel
was in it, so I figured I couldn't go wrong. During the opening scene of the movie I realized that I had made a horrible, horrible mistake. Sure, there were part of the movie that made me laugh, but Will Ferrel is always funny, and so are homosexual caricatures. Those are easy laughs. Otherwise, don't even get the DVD unless you like Mel Brooks, showtunes, and throwing up in your mouth. Just don't see it. I beg of you.
Item #3:

I lost a .gif animation war. Bigtime.

I got pwnd big and bad on this one. That'll learn me to mind my ps and qs, as it were.
Item #4
I really like the show Battlestar Gallactica.
I can't get enough of it. There's just something about it that I really like. Is it pretty popular back in the states?
And on a much more serious note...
Item #5:

I'm happy to be alive.

The AN32 that I used to fly around in in Afghanistan crashed. Here's what it looks like now.
I spent a LOT of time in that airplane and flew a lot of places. The plane crashed because the pilots swerved to miss a truck that had driven onto the runway as they were landing. Both of the pilots were killed. I really only had a "hey what's up" relationship with them (they were Ukrainian and spoke little English) but I talked to them a little bit and they were very professional and highly skilled at what they did. I used to fly with them a lot and put my life in their hands in a place where trucks swerve onto runways for no reason...maybe I took their skill and professionalism for granted -- they always got me home safe. None of the other 14 passengers were killed.
Osaka trip this weekend. Should be a hoot. Will keep y'all punkass byotches updated.