...More adventures...
I apologize for neglecting my blog. I'm sure all of my four viewers have their browsers up, hitting "refresh" in desperation and wondering why I have forsaken them.
Suffice it to say I've been busy, but then again that's not really an excuse. It's not that nothing has been going on, I've just been too lazy to write anything. So let's whoop it on. Click on the pics for bigger images.
Last weekend we had a little engagement party..! My friend organized it for me, which was really cool of him. We atually stayed out until the trains started back up again at 5:30, which is good because instead of spending $40 for a cab ride, you spend $4 for the train. I think I spent a total of $15, because people were buying us drinks, and we just walked past the cover-charge desk and no one said anything. That's how we roll, folks. Before the club though we went to an
izakaya
and had some beer and food. Izakayas are a great deal of fun.
Here's me and the Akinator with our engagement icecream.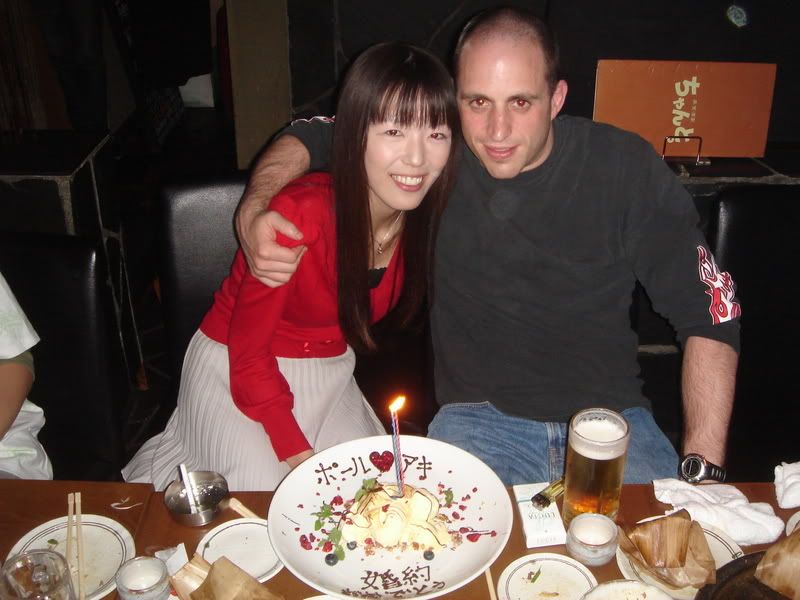 Here's a closer look at it.
It says "Paul *heart* Aki" and "Congratulations on the Engagement".
After the izakaya, we went to a club called "Camelot". I think that's a pretty ridiculous name for a club, but it's always a good time, and we're usually the only roundeye there. Here's me and the wimminfolks.
And no, that's not
Quest Love
in the background. That's my friend Damon. He's a cool dude, and caters parties here in Tokyo specializing in
soul food
. It's fun to get him going on local soul food places here run by Japanese people, and how disgusting he finds them. "I saw him making fried chicken with
salt and pepper!!
What's that?!" Here's a picture of him and Henry.
I was glad Henry came out. It was his first time "out on the town" after a year and a half in Tokyo (he's married) and he hung like a champ. He's a mutant, one of my best friends out here, and makes me feel like a defenseless infant on the mat 3 times a week. He really kicks my ass.
All in all it was an absolutely awesome night, and I really appreciated everyone coming out and paying for me and the future missez.
A couple weeks ago a friend of mine from the states came to visit -- one Wade A. We were in the Marines together, and due to some unfortunate events that he was very much in control oh, his parting from the marines was, how shall we say, under other than favorable conditions. He's still my friend though and I've known him since 1998.
We went out for the obligatory drunk fest over the weekend, and I took a day off during the week so that we could go to
Kamakura
, home of the really huge freaking Buddha.
Here's me standing in front of it.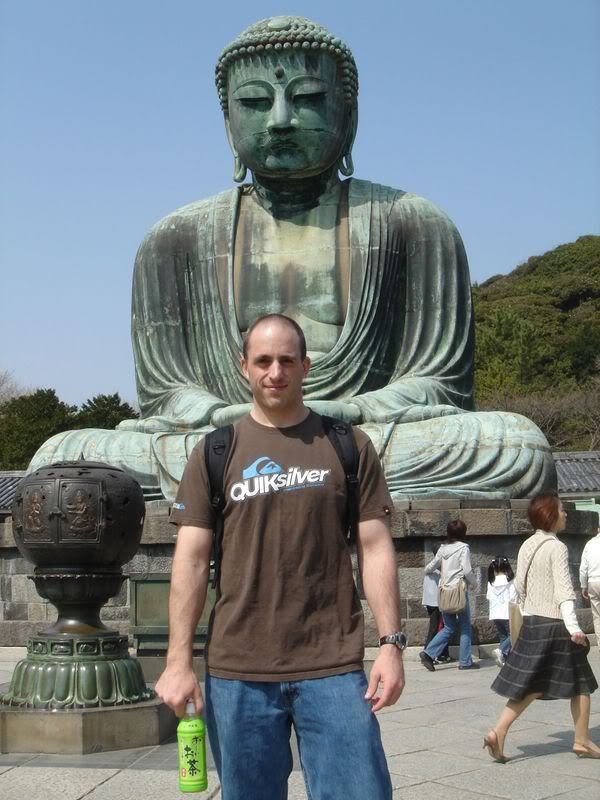 Kamakura is like the Las Vegas of temples. I mean, if there were temples instead of casinos in Las Vegas. And less lights. We went to an assload of little templets -- that's a word I made up referring to little temples kinda tucked away here and there. It's easy to get all templed and shrined out when going to places like Kamakura and Kyoto; it's hard to keep track after a while. Here are some cool pictures though.
This picture was taken at
Hasedera
. I kept referring to it as the Smurf Army, until I found out that the figuring are actually for unborn babies that have died.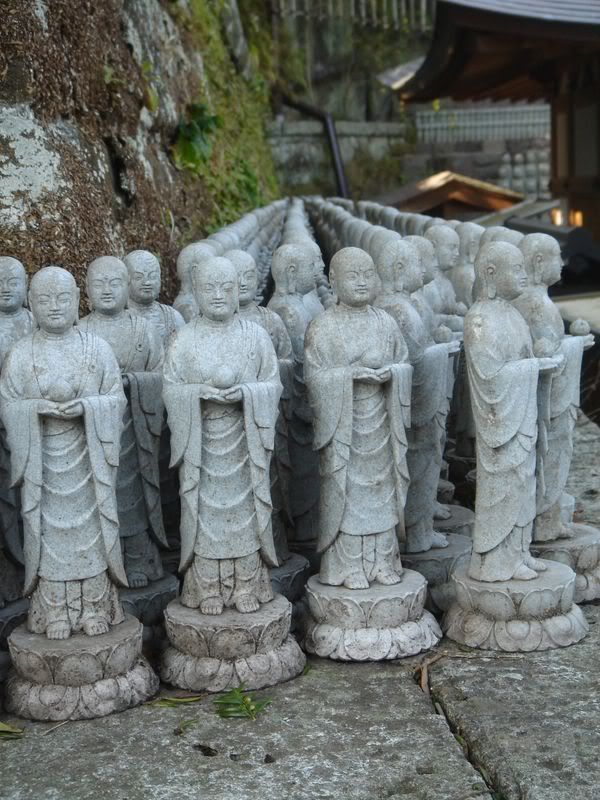 Here's another shot.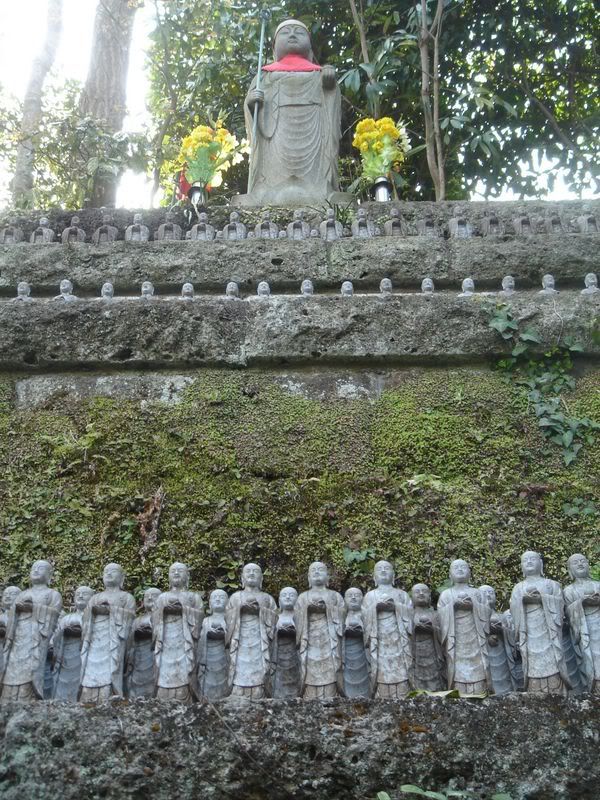 It's a little sad, because people who have lost children bring little toys and bibs and hats for the figurines. I of course didn't know this, and felt bad later.
Here are some big Buddhist feet. I'm not really sure what it means.
The little sign says "Please don't 'ride' on top." I know those look like swastikas, but they're not.
Here's a little waterfall I posed by.
We also walked along the beach, and since I love birds, even ravens, I took a picture of a few of them enjoying the view with us.
I also played with a squirrel, which tore the shit out of my finger. He didn't get his picture for that.
So there you have it. Adventurepan, Adventures in Japan guaranteed.