I am, how you say, hole of ass?
Anyone who's ever spent any amount of time in The
Suck, AKA the USMC, will tell you that
scaling cliffs
, playing
death chess
, and smartly brandishing
marmaduke swords
is hard work that changes a person.
Still, I don't think my experience in the Marines made me mean and definitely didn't make me cynical -- I consider myself to be optimistic to a fault -- I believe it made me
realistic
. This realism can often be misinterpreted as cynicism, because human beings are just so completely fucked up. Most people with certain experiences seem to be "cynical" or whatever, but it's just them seeing the world through a different pair of glasses and reacting accordingly.
In the Marines, especially in my unit (or any combat arms unit that doesn't have any women in it), being hurt is shameful. Simply put, if you are hurt, you are a pussy, and if you are truly hurt, don't complain about it because no one cares. Pain is something that you deal with on your own. (Notice that I didn't say "injured". There's no shame in snapping on the DZ or having some sort of injury that renders solid, no-shit proof, like an X-ray, a protruding bone, or a caved orbital. Caved orbitals are just manly.)
Believe it or not, the USMC has no shortage of people who pretend to be hurt when they're more than capable of completing the task at hand. Five years of witnessing this made me even more realistic (not cynical) when someone claims to be hurt....
.....almost....
too
.....realistic........
.....especially when applying USMC "reality" to a 105 lb girl...
So this weekend we went snowboarding again. I wanted some practice for when I go "for real" with my friends, but the place we went to was super small (it literally took me 2 minutes to board to the bottom off the lift) and, unfortunately, the Missez hurt herself on the second run. I got to the bottom of the hill and saw her laying there on the ground, immobile.
"Ok, time to get up!" I said.
No movement
"Are you ok??" I asked impatiently.
Finally there was some movement. She had hurt her right elbow the last time we went boarding, so I figured this was more of the same -- a little bump with some theatrics thrown in for fun. I asked her if she was OK and she said her arm really hurt, so I told her to walk (slide?) it off and we hopped back in the chair to go back up.
When we de-seated, I accidentally knocked her over cuz, well, I'm still kinda figuring shit out, and she decided to sit that run out. I told her that I'd come back up in a few minutes and we could go back down together. When I came back up we boarded down again, and she said she wanted to go to the medical center.
We went and talked to the dude at the Medical Center, and she explained to him what was happening. He told her that maybe she should see a doctor, but I shrugged it off. I figured he was doing the typical Japanese-over-reaction, just in case her arm was really fucked up so he couldn't get blamed for anything. I finished up the day with a few more runs and came back, and we headed back to Tokyo by bus.
She was complaining a bit from the pain on the way back, and I was trying to figure out if it was a ligament or a tendon or something, but to be honest she didn't really react to any of the pressure I applied to the soft-tissue parts of her arm. The cartiledge, tendons, muscles, etc, seemed OK, so I didn't really know what the problem was.
I was reading Kyle Maynard's book,
"No Excuses,"
which is an auto-biography about a dude who was a state high school wrestler even though he doesn't have any arms and legs.
"Look at this guy," I chided. "He doesn't have any arms and legs and he doesn't complain."
Aren't I just the funny guy?
So we got back to Tokyo and we cruised over to the hospital.
I'm sure you can probably figure what happened next, otherwise I wouldn't be writing about it.
Now, I don't normally do things that I feel absolutely and utterly horrible about. Normally I walk the Earth filled with righteousness and an arrogance found only in rigid caste-system societies or, I dunno, a society where there are a lot of dickheads about. But Sunday night was a definite exception. One of those times I just felt like the lowest creature on the planet. Like, I dunno,
"The Supreme Reigning Overlord of the Planet of Assholia called, he wants his throne back"
type shit.
Survey says....................Fractured elbow.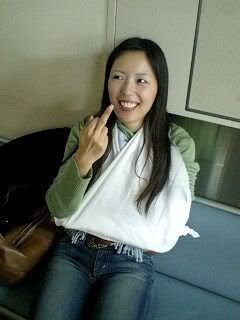 They say a picture's worth 1000 words..... This one says two specific words pretty well, which I deserved x infinity.
Once again, I was the Biggest Asshole in Tokyo, maybe in all of Japan. Maybe of the Far East. And that's saying a lot.
This is my public apology and acknowledgement of being the Hugest Asshole Ever. It isn't the first, and definitely won't be the last time I claim this dubious title, and believe you me, I'll be deservedly hearing about this one for quite some time.