...are you asking me for a CHALLENGE?!?!?
Today I got this question from
someone
about UFC/MMA:
I got to thinking after watching Hughes wrestling /
boxing / jiujitsu style of fighting and how prevalent
that is within the UFC, what happened to all the Bruce
Lee type dudes?
This is a stupid, but serious question, but doesn't
the dominance of someone like Hughes with that type of
style just go to prove that all those flashy strikes
and jumping around and that kind of shit may look good
in the movies, but are really just a waste of time on
the street?
Seriously, has there been some pure martial artist
(Karate, Kung-Fu, Shaolin Monkiness) that has done
well in one of these tourneys?
That, my friend, is a wonderful question.
Notice how whenever you're watching UFC or Pride or any MMA bout, you will never ever see this:
If Mister Miyagi was a master of karate and could kick anyone's ass, wouldn't he dominate any MMA competition?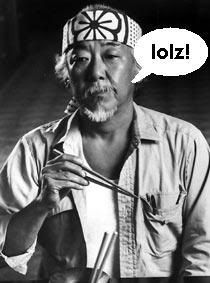 Why is it that so many people you meet who claim to be a "black belt" in a martial art are about are about as warrior-like as a
labradoodle
and you feel you could probably take 'em?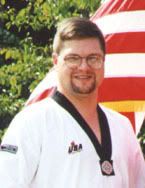 I think as a lot of people who grew up watching the karate kid are probably wondering what's up with all this.
Traditional Martial Arts (TMA) like aikido, taekwondo, etc, are just that -- traditional -- and things based on and emphasizing tradition and form above all else are rarely all that practical. Failure of something to adapt and evolve in an ever changing world is a good way to get passed up, and fighting styles are no different. TMA folks aren't doing it for the practicality of it, they're doing it for the
tradition
of it, and die-hard practitioners of TMAs, when asked about practicality against other forms, will likely dismiss other forms as being "impure" or argue why their arts are so much more practical by explaining how they would counter this and that or utilize pressure points and death strikes.
By coincidence, in the gym locker room today, I overheard a conversation between someone asking an aikido guy what the difference between jiujitsu and aikido was. According to the Aikido guy, a US Army officer, Aikido was much more practical for soldiers because in a combat situation, it is much more useful to break someone's neck than to roll around with them on the ground.
One reason TMA practitioners will give for their suspicious absence in MMA tournaments is that their art is "too lethal" and that they don't want to kill their opponent.
Nothing says "I'm gonna let you break my neck" like this picture:
Check out
this vid
to see him pwning with strikes and grappling.
So what is it about the grappling/wrestling and kick boxing that makes these guys so much better than the Masters of Aikido? Why is it that any state-level high school wrestler could own a most taekwondo blackbelts? Why am I confident that as a lowly
BJJ
blue belt, I could easy submit any of the aikido blackbelts that work out at the gym on base? The answer is pretty simple:
Sparring.
Combat sports like kickboxing and grappling all have that in common. While TMA practitioners are working on their katas and moves that only work if the person does what they want them to do, grapplers and kickboxers are
sparring
. Three times a week when I train, at some point during the "sparring" session, I will go for at least 6 minutes at 100% of my abilities to try and submit the other guy, and he is trying to do the same thing to me. Sparring is exhausting and conditions a person physically, while getting them used to up close and personal one-on-one competition where losing sucks and often times hurts like a bitch. Imagine only dry-firing a gun because you can't bare the possibility of hurting someone by firing off a round -- once you DO fire the gun at a target, you'll never hit it like you expected. The staunch TMA practitioner's inability to spar at 100% is the very thing that prevents them from being effective at their art in a "real" situation against a highschool wrestler or in an MMA competition. Ironic, isn't it? Sparring is also what keeps a lot of people out of grappling, because they don't really like the up close and personal aspect of it, nor do they like the prospect of being humbled over... and over... and over... again. Starting a combat sport that involves sparring is a tough road, and it's understandable if people don't want to stick with it.
I'm not knocking TMA -- they teach poise, confidence, and discipline to young people, make them stronger and teach them how to punch and kick. But as the Gracies showed the world through their
Gracie Challenges
, when it comes time to put up or shut up, grappling was far more practical, and as tournaments like UFC emmerged, styles evolved requiring a combination of striking and grappling, all of which have the common theme of sparring.
When I heard the aikido guy advertising his style's ability to "snap an opponent's neck" and move on, I really got a kick out of it. Even as a practitioner of aikido he's living in Hollywood, and probably imagines himself flowing through buildings in the Sunni triangle snapping necks Stephen Segal style. In that way I think some TMAs give people a false sense of confidence because they're not forced to put their skills on the line every single day by sparring, which result in very humbling experiences every time you train. To each his own though. Watching these guys in their aikido costumes with their smug, "pure" TMA demeanor makes the odd victory of mine on the thankless road of struggle, conditioning, and humbling losses all the more sweet. Their delusion makes me stronger.
Thanks for reading.