I think I see some Pigeon shit.......Over there....
Quote of the Weekend:
Oatmeal? Oatmeal's what you feed orphans, but over here they act like it's a fucking delicacy.
- Canadian Paul
I've noticed a few things in the past 24 hours.
First of all, whenever I am "into my cups" and pictures are being taken, pretending to look at something off camera seems very amusing to me…..and red-eye sucks.
Second of all, I really hate talking to chicks at bars. I'm not particularly good at continuing banter, and most chicks in general either don't understand my humor or don't think it's funny/find it offensive. Cultural shit complicates stuff too.
Third, Taco Bell seems like the best idea in the history of food consumption when you haven't eaten there in a while, but when you go ahead and eat it, it's not as great as you expected.
And forth, "pigeon shit" is the least of a person's worries while enjoying the benefits of Japanese public transportation. I'll get to that later.
Anywho, a bar I used to go to a lot had its final party this weekend, so I cruised out, met the Canadians, and we had ourselves a time.
On the way down, I noticed this sign.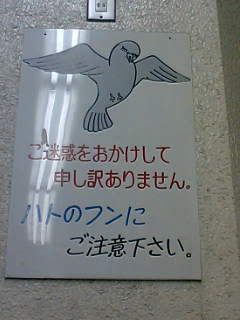 Beware of pigeon shit.
I arrived on the scene and paid 1000yen for all I could drink. That's about $8.50, so it was pretty much "on". Not that price is ever an object when it comes to puttin' down booze, but the idea that I can drink as much as I want for $8.50 tickles me pink, and yeah, it's like a blatant challenge too.
Thank the Gods that I am the king of self restraint (and not an alcoholic).
In any case, it didn't take much. I decided to break my normal habit and cruise up to the ole gym in Tokyo and roll, which was awesome and I think I'm going to start going on Saturdays. I was a bit dehydrated and didn't eat a whole lot, so I was a cheap date.
The Canadians showed up a little after me, while things were pretty mellow.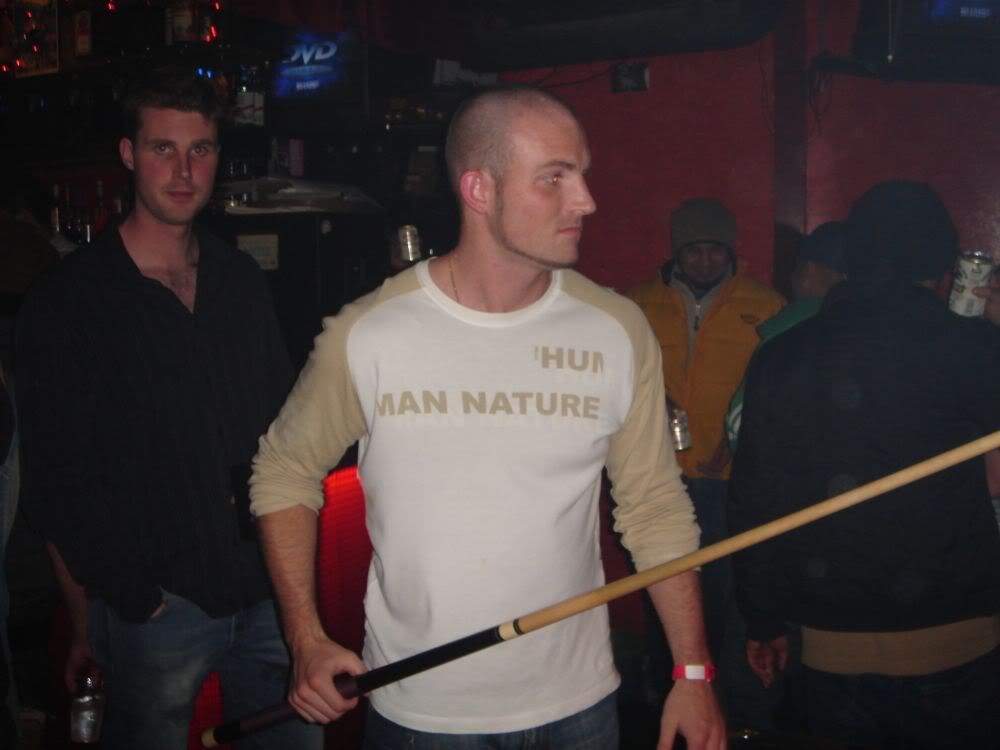 It's funny, because Canadians used to be in the Top 3 of my Pantheons of Dickhead Countries. They're off the list now, except for maybe Québécois.
I digress.
Eventually, at some point in the night, it had to happen. The camera had to come out.
I started off by making sure that my makeup was good.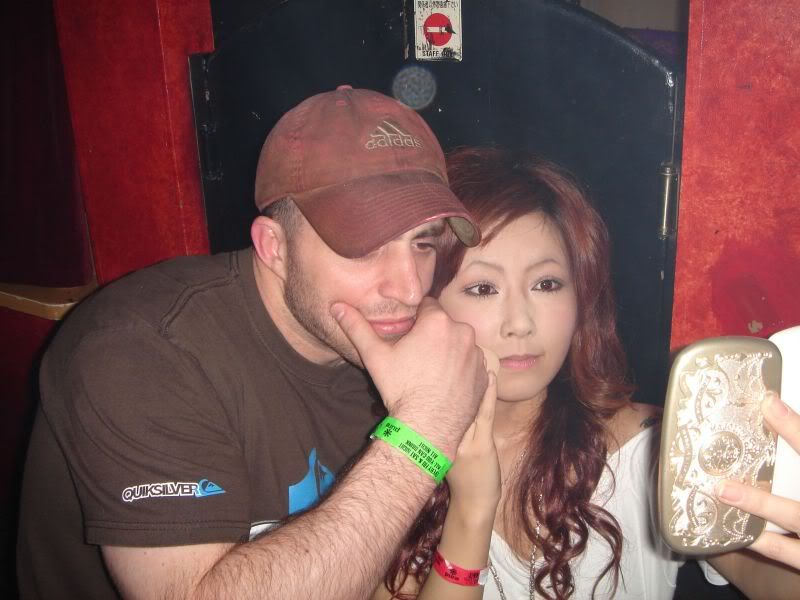 I checked in with one of the owners and some chick with a pretty sweet tattoo.
Here is me, the tattoo'd chick, and Stephan, the owner.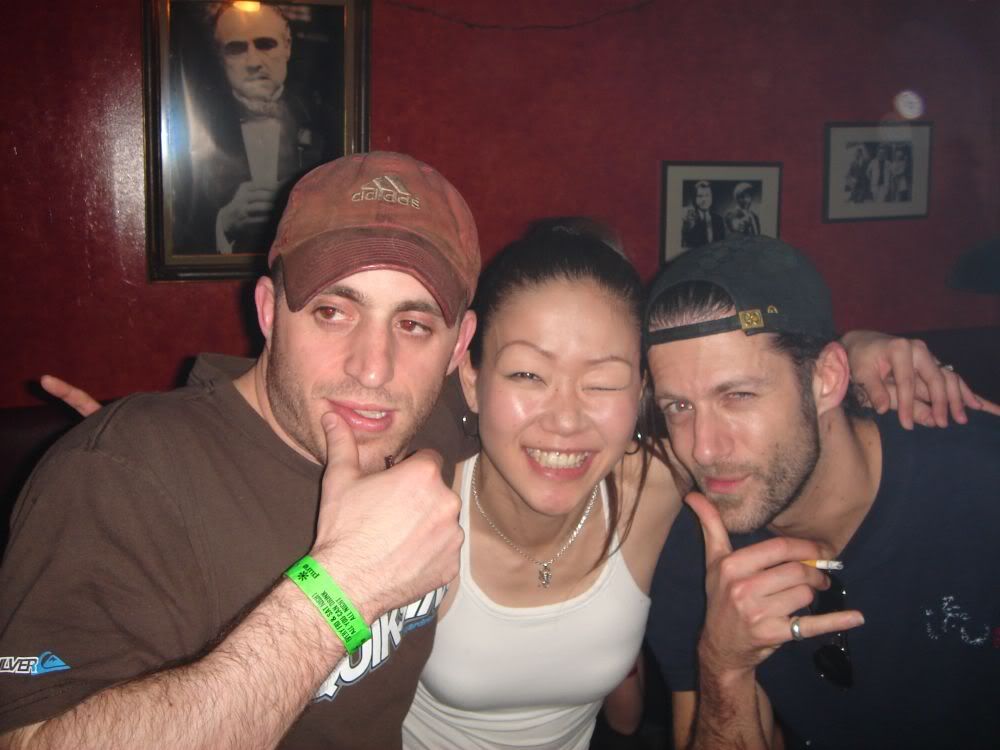 Here is the chick's tattoo. Nice eh?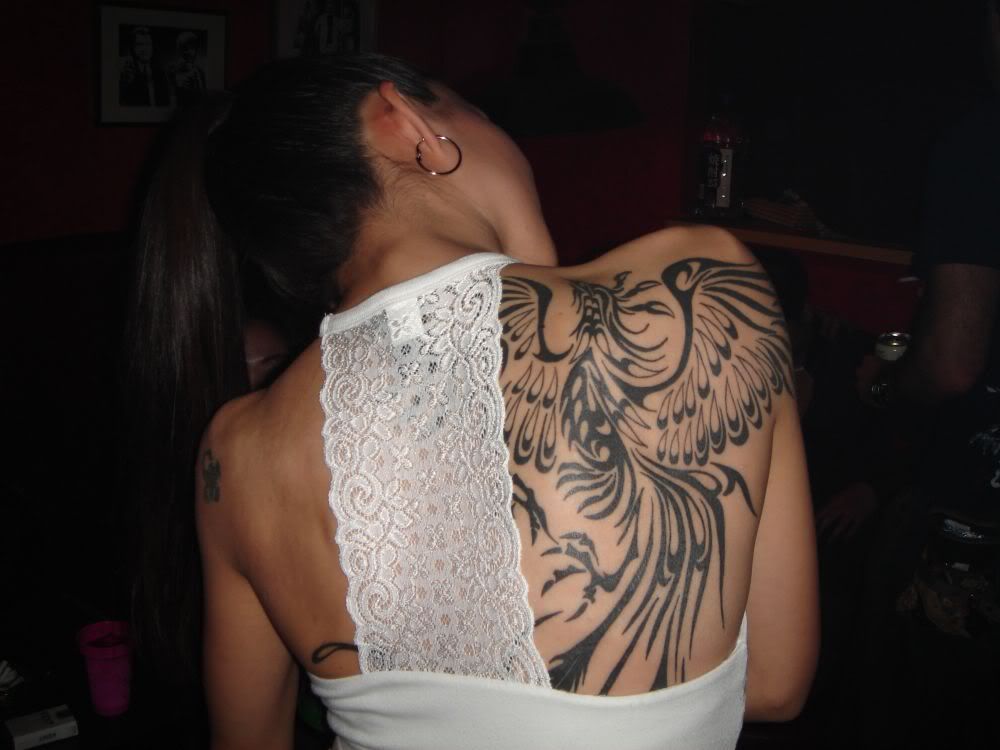 Drew was talking to this girl that seemed pretty cool. After talking to her for a bit, I informed her that she "really seemed to have her shit together." After a blank look, she told me to explain it in Japanese, but at that point my English and Japanese facilities were severely limited, which would also explain why I would tell a girl that she "really seemed to have her shit together." Here's the three of us.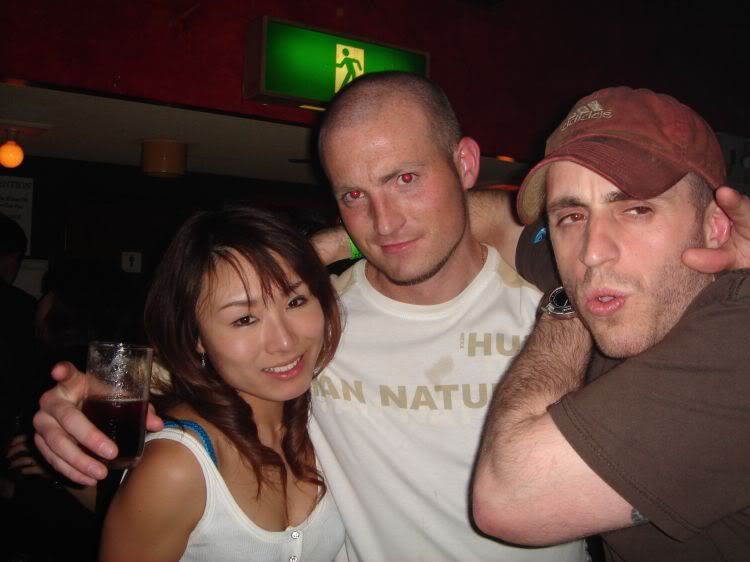 So my little sidekick was there, and since she speaks Italian, English, and Japanese at a native-speaker level, I said, "hey, how would I say someone had their shit together in Japanese?" She didn't really know, so I tried to crush her to death, as seen here, all the while looking at something interesting off to the side.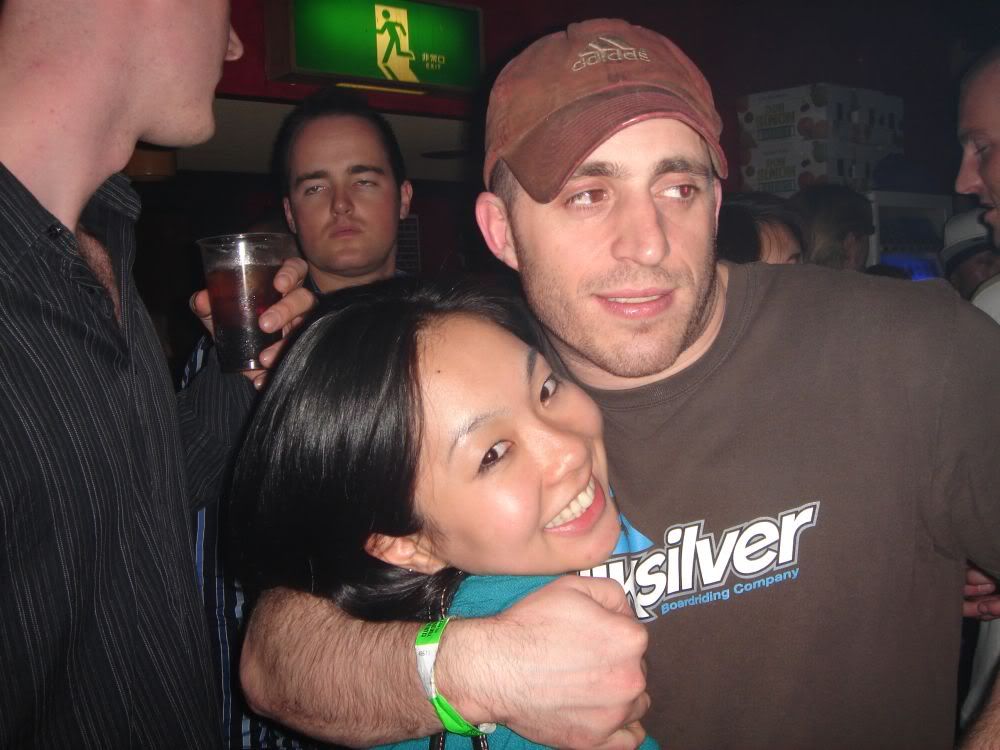 As the night came to a close (6am), I snapped off a final picture. I'm really impressed at how sober I look after drinking all night, aren't you?
So we came back home and the Canadians kept crashing through the train gates. We spotted this guy passed out in the station.
That's why a sign telling you to beware of pigeon shit is so ludicrous. Every morning, the stations are full of guys like this, and it looks as if an epic battle took place between a human stomach and a juice weasel. Vomit everywhere. It's gross.
This is where I slept.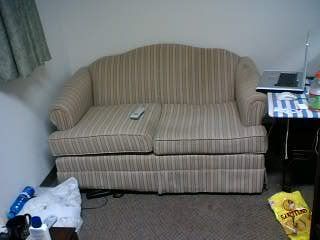 The Canadians came over and passed out at my place, so I took the couch. It looks like a wee couch, which it is, but I'm a wee feller, so it's no problem. We cruised over to Atsugi and had us some Taco Bell which was yummy, but, as always, a little below my expectations. Bringing fellow westerners shopping on base is always amusing. You'd think they were marooned on an island for 5 years, what with all the excitement over a thing of Quaker Oats. The price difference is definitely insane though. A $7 box of Tide laundry powder is $20 on the outside, and oat meal is about 5 times as expensive.
Time for some Oatmeal. President's Day is tomorrow, and I will be working out twice to burn off all the Taco Bell I demolished today. Hope you all had a good weekend!!
Update: Oatmeal's good mmkaaay?