LA Story
Or should it be LA Times? Or LA Law? Or LA Confidential? Whatever. The trip to LA was completely awesome, but not really because of LA itself. And yeah, I know Fast Times was set in San Diego. Or at least that the actual high school is there, cuz my novice rowing coach graduated from it.
OK, so where to start? I guess I'll kick it off with the touristy thing we did. We went to Hollywood, because that's something you ought to do when you're in LA. I knew Hollywood was a shithole, but it was really nice to go there and see just what a shithole it is with my own two eyes. I'm amazed that it can be portrayed as somewhat glamorous of a place at all. We went to the Chinese Theatre, where the hand prints are, which is just a bunch of tourists milling around looking at hand prints, of which we were a part of. There are people there dressed as Darth Vader, Spiderman, Shrek, etc, but the costumes aren't professional. I might even go so far as to say they're home made. By unskilled people. Like unskilled homeless people. Like I felt embarrassed for them, and embarrassed that for whatever reason they felt that by dressing up in a $5 costume they somehow enhanced the Hollywood experience. I bet they have a union and everything, and a code of rules and etiquette, and refer to themselves as "practitioners" of a "craft". If anything, they underlined, italicized, and boldfaced how sad the myth of Hollywood is, an empty cicada shell of a town. I didn't take any pictures of anything there, because it was all a bit depressing.
My uncle lives about 5 minutes from Magic Mountain (6 flags), so we spent the day there with my cousin and his new wife. A lot of the schools are still in session so we didn't have to wait in line for too many of the rides, and it was a complete roller coaster fest. Awesome. Whenever I ride a roller coaster, I think about what it would be like to bring a a villager from the Amazon basin along with me, and what their likely reaction would be. I've always thought that would really be a lot of fun. Since I don't have one handy, I have to bully my wife into riding rides that make her uncomfortable, and her initial reaction when asked to ride the DEVIL DIVE seemed like a good opportunity to ellicit a similar response. We also decided that she would be the one to pull the release, which was awesome. Here we are being hoisted up.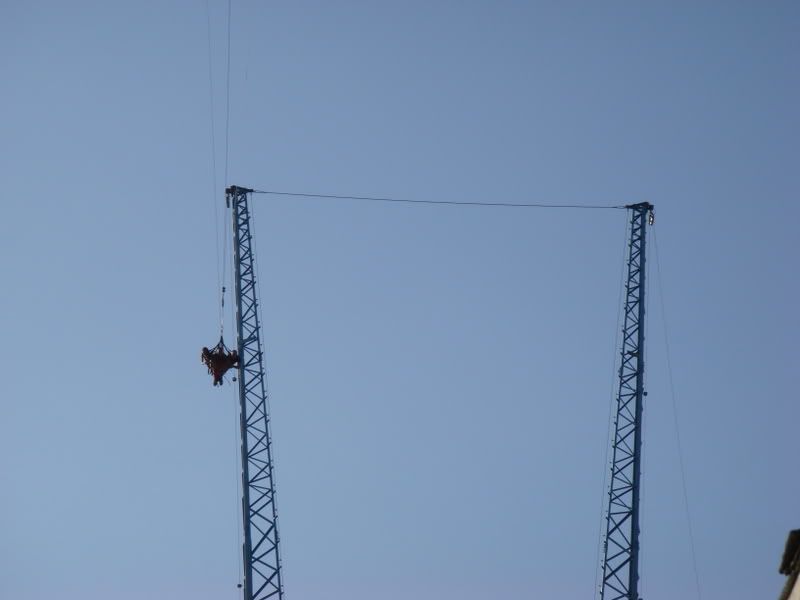 Here we are after screaming back and forth a few times.
We had a video made, but I don't know how to rip it and put it on the googles.
My cousin's wedding was really nice, the food was great, and it was nice to hobnob with some folks I hadn't seen for 9+ years. Weddings are not-so-good for actually getting to spend a lot of quality time with people though, especially the people being wed. I think that flying back from Japan for just a wedding might not be such a great investment, and likewise, flying to Japan just for my wedding ceremony would have the same effects. So if you want to come see me, don't come during my wedding ceremony. My request for prima nocturna was also rejected, which put me off a little bit, but the open bar made everything OK. Here's a pic of me and the Mrs before heading over. Get a good look, cuz I hate wearin' suits.
I shanghai'd one of my dad's ties with Chinese characters on it.
All in all, it was an awesome trip. One of those week-and-a-half trips that seems like it lasted a month, and that you really don't want to see end. I came back to work today (Friday) for the helluvit and because I knew I'd have 200 emails of madness waiting for me, and got about a week's worth of work done. Our Japanese workers were chilling while I was gone, it seems, so I didn't have to worry about too much. God bless'um.
Some a la carte observations about the USA and my little trip:
In Japan, drivers enrage me due to their obliviousness. In the USA, drivers enrage me because they're assholes. Maybe these are accurate reflections on each respective culture's personalities in general. When I'm signaling to get into a lane in Japan and I look at the other driver, I can tell they're thinking about manga and schoolgirl porn. They're just staring straight ahead. In the USA though, they make eye contact and speed forward. Road rage central.


I thought Reality TV was out of control 2 years ago, and it still is.


Pop culture is out of control too. I wanted to bring it up but I didn't want to be another person being overheard talking about pop culture icons like everyone else I was around and overhearing.


The Spicoli look really seems to be in with the youngsters these days. I couldn't help but feel like an old man constantly thinking stuff like "get a damn haircut" or "learn how to wear a hat". Then again, during our high school years we had a choice between the Zach Morris and the mullet.

Flying on a plane full of Chinese people is an experience. You know how Americans act in movie theatres these days? It's like that times 10 only on an airplane, and the humor/irritation (depending on your position on the plane) of it is compounded by strict FAA regulations, terror threats, and ornery post-menopausal flight attendants. I'm wondering when American Airlines is going to figure out that they need at least one Chinese speaking attendant in economy class on flights from Cali to Japan.


Most shocking experience: At Magic Mountain this big fat lady whacked her 5-or-so-year-old son right in the mouth, then told him to "quit his fucking whining".

I wanted to pull a Benicio and Ryan on her fat ass. Don't click on this if you're offended by strong language, but it's probably my favoritest film moment ever.




And that's how it all went down.
Labels: america