The Americas
Here I am, back in America, while my wife and sister and mother run around town and look at wedding dresses. If I have to look at another dress or hear another conversation about shoes, I'm going to scream... So I thought I'd chill here at home while they did their thing.
Anyway, we flew in to Chicago, which is an awesome city as always. One thing that really strikes me about Chicago (as opposed to Tokyo) is the amount of personality the city has. With the exception of Kyoto, everything in Japan was pretty much leveled during WWII, and the newer cities don't really have much personality to them. If it's not a shrine or a temple and it's oldish, the Japanese will destroy and build something fresh and new. Walking around Chicago with its wide streets and building fronts made of brick or constructed in art-deco, the city feels that much more vibrant. We stayed at a family friend's apartment, which is on the 30th floor of a building right on the river. The view was, in a word, ridonkulous, because you're pretty much right there amongst the buildings in the skyline. Here's a pic of me and the missez (click for larger version).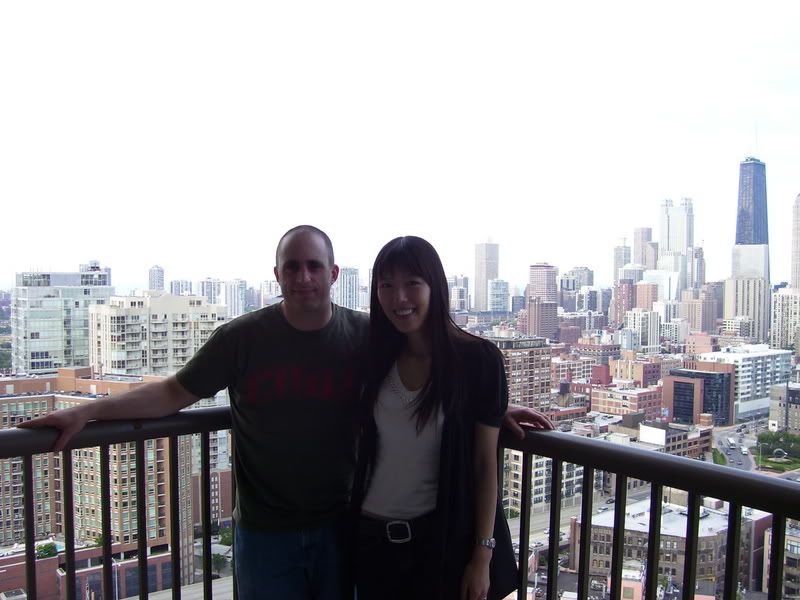 I have some awesome pics of the buildings at night that I will put up when I get back to Japan, because I didn't bring a cable for the missezes camera. The apartment is right across from the East River Fitness Club, where Oprah works out. It's always fun to come home and listen to my father trash talk Oprah. He says stuff like
"She uses adoration for oxygen"
and
"She doesn't so much 'have guests' as much as she 'holds court'"
. I've also found that chasing my sister (now 33) around the house with used kleenex is just as fun as it was when I was 6.
After a couple days running around Chicago, we made the 3.5 hour drive back to Iowa City. Coming back to Iowa City (where I went to college and where my parents live) is always kind've weird. It never changes but it's always different -- bars and sandwich shops close, and new ones take their place. Every time I come back I can be guaranteed to see some of the same people doing pretty much the same thing they were doing when I was here 10 years ago. The Java House coffee shop, where I studied at before it was cool to study in coffee shops and before Starbucks took over the world, still smells of custom coffees and pretension, and Brueggers Bagels still rock my socks. Eventually though it seems like everything turns into a bar, making this a pretty cool place to go to college, but not such a good place for getting burger king or hardees, both of which are now bars.
Seeing as how I only went to college here (one of which was spent in Japan), I don't really feel a connection to the city and I dont consider it "home" in any sense of the word. All my friends have since graduated and generally left, so it's pretty much a hang-out-with-the-fam type place, but it's still a good place to walk around and look at all the weird people. But in general it's always just kind've eerie to revisit where we used to live, especially since I came here when I was 17 years old, bright eyed and bushy tailed, ripe with hope and optimism and ready for adventure. I think of the person I was back then, what I've done in the last 12 or 13 years, the person I've become, and yeah, the word I can really use to describe the whole experience is "eerie". Like Iowa City, somehow I'm basically the same, but basically different. It's just one of those things you can't really put your finger on I guess.
Anyway, here are a couple other pics. My mom, dad, me and the misses:
And my sister and I:
Tomorrow we'll head out to LA for my cousin's wedding, hang out there for 5 or 6 days, and then head back to Japanistan. I'll update on the bottom of this post, so stay tuned, ye 2 or 3 readers. (I'd also apologize in advance for not calling anyone yet. Busy + family time + introducing new wife to family + jetlag = not a lot of time for that, nyam sayin? I know you understand.)
Labels: america